Products
As an owner of heavy equipment, you would know that undercarriage can account for a large amount of the investment into maintenance that you make over the life of the machine.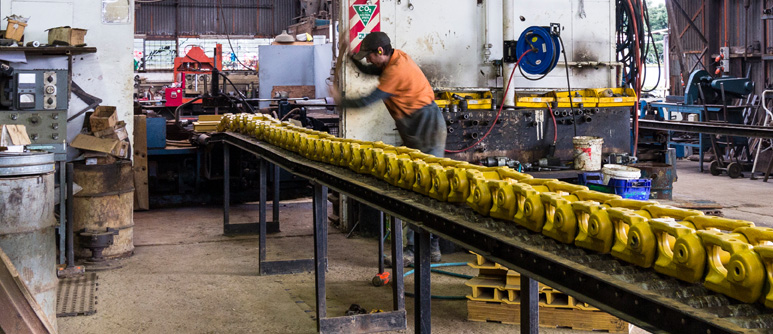 It is not uncommon to spend up to 60% of an annual repair and maintenance budget on undercarriage for a dozer, and 45% on an excavator.

Quality aftermarket undercarriage parts can offer you the ability to make significant savings and reduce your cost per hour maintenance on equipment.

Trackspares carries two lines of undercarriage brands in order to increase our coverage of machines and to also give our customers greater options and when it comes to pricing.

Our ranges covers from small track type tractors right through to the Caterpillar D11R and Komatsu D475.

For excavators, we carry stock for the 10-ton class right through to 300 ton mining shovels.

Most brands and models are covered, these include Caterpillar, Komatsu, Kobelco, Hitachi, Sumitumo, Hyundai, Samsung, Volvo, Case, Fiat, International, Liebherr, Terex and more.
ITM Heavy Equipment Parts Manufacturer
Made in Italy, Italtractor ITM is wholly dedicated to undercarriage with annual production capacity of 70,000 chains and 700,000 rollers. ITM is a reliable manufacturer for rollers, chains, shoes, sprockets, segments and idlers to outfit popular earthmoving and agricultural crawler models and makes, including Case, Caterpillar, Fiat-Allis, International, John Deere, Komatsu and more.
KBJ Heavy Equipment Parts Maufacturer
One of the leading manufacturers of heavy equipment undercarriage parts, with an annual production capacity of 300,000 pcs of rollers and 10,000 pcs of track link parts suitable for use in Caterpillar, Komatsu, Hitachi, Kanto, Sumitomo, Samsung, Daewoo, Hyundai etc. excavators and bulldozer machines.

All products sold come with their respective manufacturer's warranty.
OUR

SPECIALS

ITM PRODUCTS

We supply new and used undercarriage components and ground-engagement tools, and we export parts to Australia and the Pacific Islands of both new and second-hand parts.