Link

Assembly

Chains

We stock both sealed (dry) and SALT (sealed and lubricated tracks) versions of track link assemblies.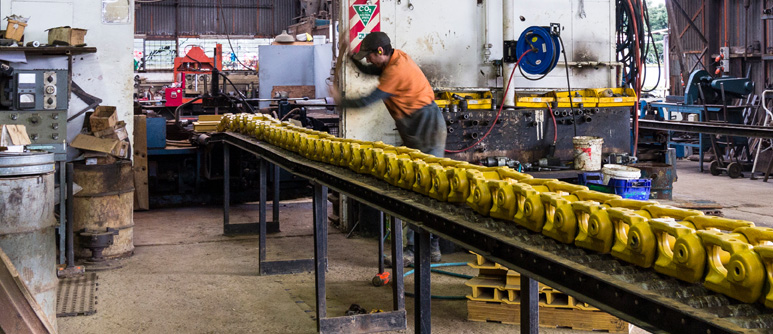 What's the difference?
The links are the same in either sealed or lubricated, but the pins and brushes and the sealing method are different.

Sealed-type chains are typically used on excavators and older model bulldozers, and use cone-shaped steel washers to help prevent abrasion between the pin and busing. Grease-lubricated chains, as typi­cally used on excavators, use a polyurethane seal to keep abrasives out, and the grease is a good lubricant for the pins and brushes.
Which is the most common?
The lubricated style is the most common link assembly used on bulldozers. Lubricated track links use a lip-type seal to maintain oil in the pin and bush and to prevent abrasive entry into the joint. Internal wear on pins and bushing is a common reason for sealed chains requiring servicing. By keeping pin and bush lubricated, maintenance intervals can be extended further than with sealed chains.

Lubricated chains also have the advantage of being quieter in operation. Additionally, they do not result in the wear and tear of other undercarriage components - caused by excessive pitch extension resultant in sealed chains.
Our

Specials

ITM Products

We supply new and used undercarriage components and ground-engagement tools, and we export parts to Australia and the Pacific Islands of both new and second-hand parts.